Buy or Lease a

New Subaru Ascent in Fort Wayne
Find the Versatile Family SUV for You in the New Subaru Ascent
You're looking for your next SUV, and you want something with the space to fit the whole family. That's not all you want, though! You want something rugged. Something with great features and solid performance profile. Something with the comfort to handle every day and the grit to go anywhere.
In other words, you want a new Subaru Ascent.
Serving drivers all over the Fort Wayne-area, the sales team at Bob Rohrman Subaru of Fort Wayne can tell you more about the latest version of this mid-sized market favorite.
What's New in the 2022 Subaru Ascent?
The Subaru Ascent doesn't add in a ton of upgrades for 2022. The biggest update is the addition of the 2022 Subaru Ascent Onyx Edition.
With the Onyx Edition, you'll enjoy unique style extras, 20-inch black alloy wheels, and StarTex water-repellant seating. These Black Onyx extras provide an extra layer of value and an edgier sense of style to bolster the Ascent's high-quality experience.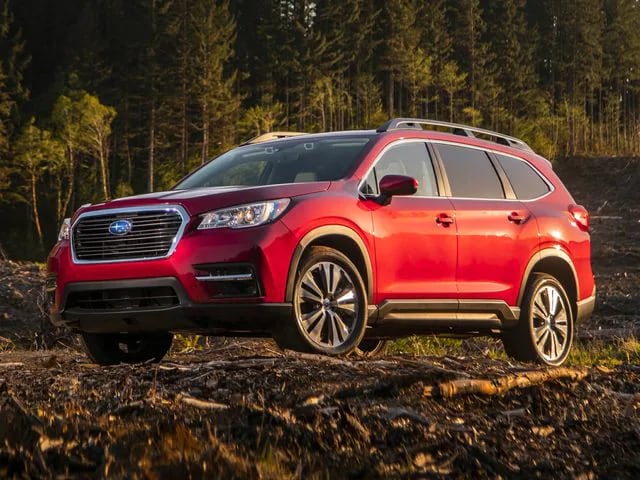 Performance Options and Features for All Your Weekend Adventures
One of the biggest selling points of the Subaru lineup is the near-universal inclusion of standard all-wheel-drive. The Subaru Ascent is no exception to that rule. Every new Subaru Ascent SUV comes with AWD rolled into its standard feature package. That's a big boon for drivers who might spend the occasional on icy roads or who like the idea of pulling off-road every now.
Standard all-wheel-drive is far from the only performance perk you'll get with the new Ascent, however. The newest model also offers a 2.4-liter turbocharged flat-4 engine. This robust powertrain can dish out 260 horsepower with 277 pounds-feet of torque. That comes on top of a none-too-shabby fuel economy of 21/27 miles per gallon.
Put simply? The Subaru Ascent is the family SUV you want when your family plans involve more than just the daily A to B commute.
A Robust Interior Packed with the Feature Options You Want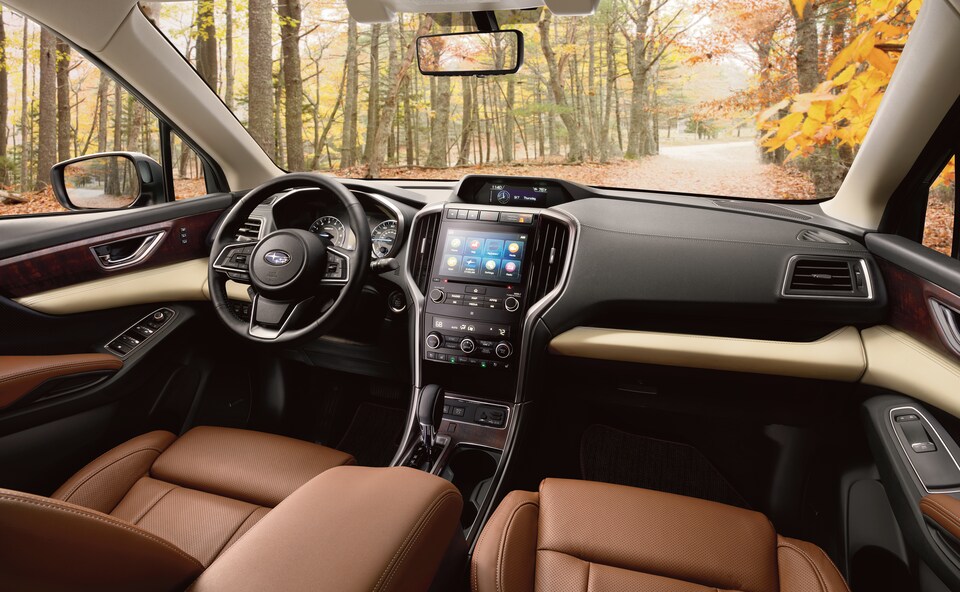 Subaru's SUVs are some of the most beloved on the modern road. A lot of people would peg that reputation on their versatile standards of performance. There isn't a Subaru model out there, after all, that isn't made to do more than the common car. The truth, however, is that new models like the Subaru Ascent are built to impress just as much on the inside as they are under the hood.
When you drive home in a new Subaru Ascent, you'll enjoy a standard feature suite that's anything but standard. Even at the base level, you'll enjoy three-zone automatic climate control and a 6.5-inch touchscreen infotainment system with Apple CarPlay and Android Auto. The Subaru Ascent can seat up to eight and offers a whopping 19 cupholders.
There's so much more waiting beyond the base Subaru Ascent, as well. Upper-level models can likewise come equipped with amenities like keyless entry and ignition, heated/ventilated seating, and leather upholstery. A built-in Wi-Fi hotspot and built-in navigation are also available, as is a premium 14-speaker Harman Kardon sound system.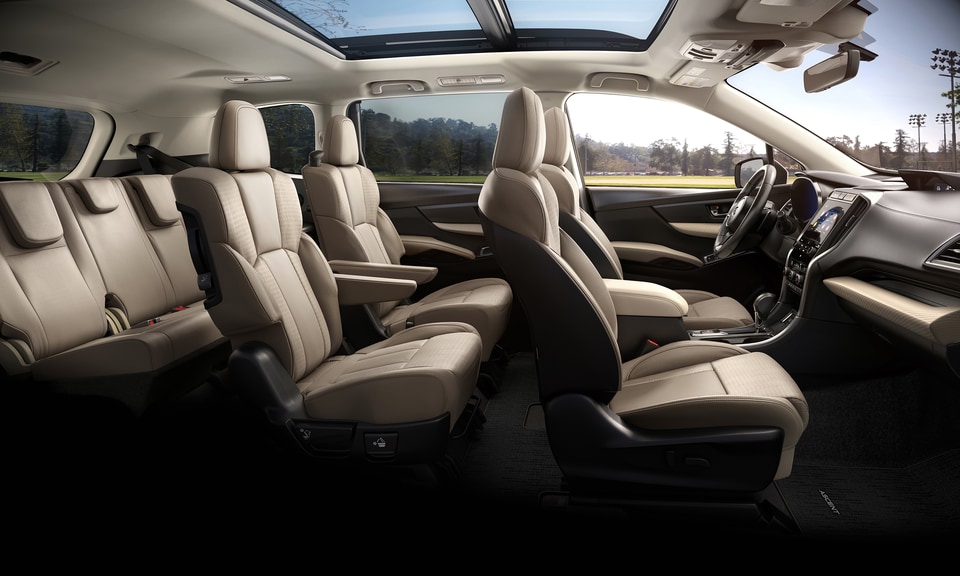 Safety Features of the New Subaru Ascent
The 2022 Subaru Ascent hits the road with a robust standard safety suite. These include the options in Subaru's EyeSight assistance suite.
The Ascent's standard active safety collection includes a robust selection of assistance features. Automatic emergency braking, adaptive cruise control, lane-departure warnings; all of these come standard. Additional features like blind-spot warnings and rear-cross traffic assist are also available as upgrades.
These features work together to provide an extra layer of protection. That way you can worry less and better enjoy the road.
Comparing Trim Levels for the 2022 Subaru Ascent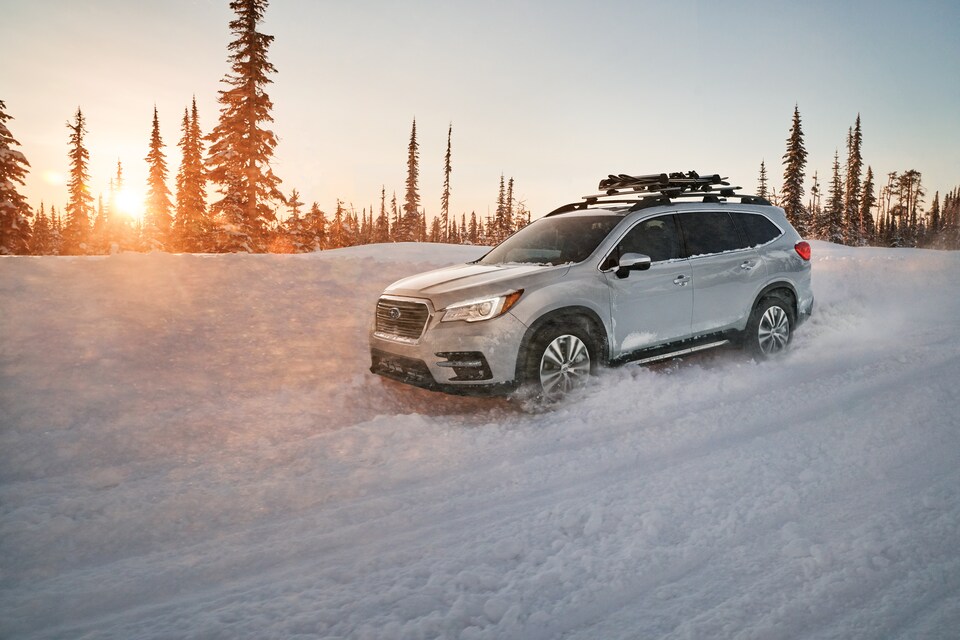 When you visit the sales team at Bob Rohrman Subaru of Fort Wayne, you'll find us waiting with a range of different options for the Subaru Ascent SUV. These include the:
Subaru Ascent base
Subaru Ascent Premium
Subaru Ascent Onyx Edition
Subaru Ascent Limited
Subaru Ascent Touring
Even drivers going home in the Subaru Ascent base model will enjoy a solid feature suite, including access to advanced media features and standard all-wheel-drive.
Stepping up to higher-level trims like the Premium and Onyx Edition will net you access to a range of extra features aimed at everything from comfort and convenience to media, safety, style and more. With a little more investment, the Subaru Ascent can offer a lot more in terms of features and amenities.
Drivers willing to go home in the Limited and Touring SUVs, meanwhile, will enjoy everything from premium comfort options to performance-focused equipment and more. The Subaru Ascent can be everything from a casual family-friendly commuter to a road and camping trip champion.
Contact Bob Rohrman Subaru of Fort Wayne to Test Drive a New Subaru Ascent
The new Subaru Ascent is one of the market's best mid-sized SUVs. We don't expect you to just take us at our word, though. You should visit us and give us the chance to prove it.
Based in Fort Wayne, we service drivers all over the state of Indiana. Our friendly Subaru experts can answer any questions you have about the latest Ascent. We can tell you more about our current new inventory and help you find a time to come in and take a test drive.