Subaru Oil Changes in Fort Wayne, IN
Regular oil changes are one of the most important routine maintenance tasks to keep your Subaru running its best while helping prolong the lifespan of your engine. Our dedicated Subaru service center offers drivers around Fort Wayne convenient & quality oil change services. While you are welcome to schedule a service appointment online, with our Subaru Express service lane you're able to stop by for oil changes with no-appointment necessary!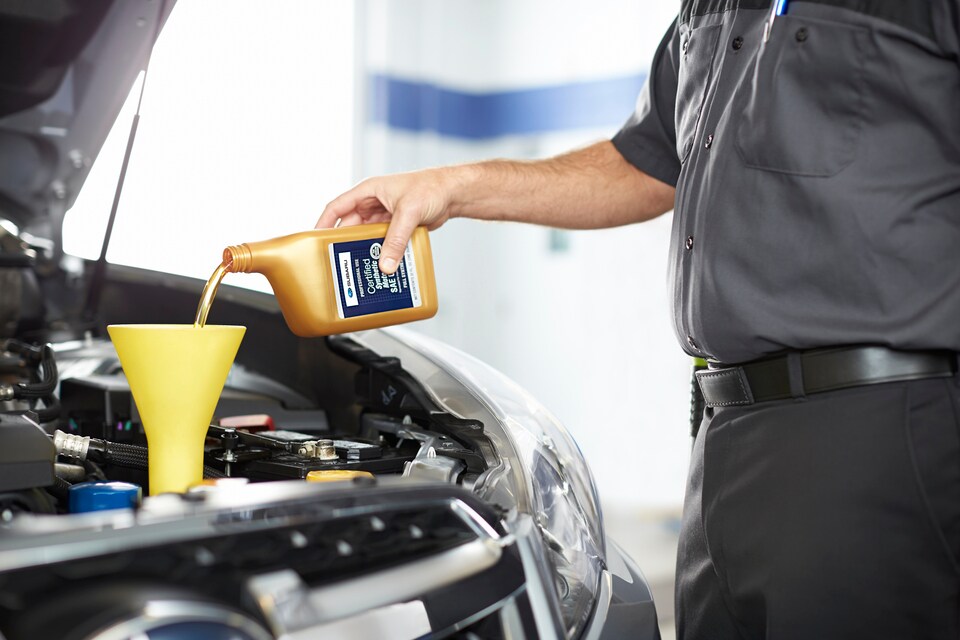 Why should I change my Subaru oil regularly?
With Subaru models harboring combustion engines, oil comprises lifeblood. Without fresh oil of the proper viscosity lubricating engine parts, you might expose your Subaru Boxer engine to serious damage. Your engine oil lubricates the engine to keep things running smoothly, but oil degrades over time and loses effectiveness. This can hurt your car's fuel-economy as well as potentially causing issues with overheating or even harming engine parts over time. As oil degrades, it can become contaminated when flakes appear or minute particles find a way into your engine system.
By keeping with a regular oil-change regimen, you're effectively minimizing the chances of engine damage.
What are the signs my Subaru needs an oil change?
When inspecting the oil dipstick, any oil residue found to be dark will signal need for fresh oil.
There may also be a burning smell while driving or smoke beneath the hood accompanying your commute into Fort Wayne. These are signs of a pressing need for an oil change, as this is key preventative maintenance to protect against engine damage.
Advantages of Genuine Subaru Oil
Engine designs vary from one automotive manufacturer to another, each creating different internal conditions that require the right type of oil to protect against heat and friction. This is why we recommend filling up with Genuine Subaru Oil, because it's the ONLY oil formulated specifically for your SUBARU BOXER® engine.
Subaru engine oil is formulated with a unique blend of additives, detergents, and modifiers specific for the lubrication needs of the SUBARU BOXER® engine.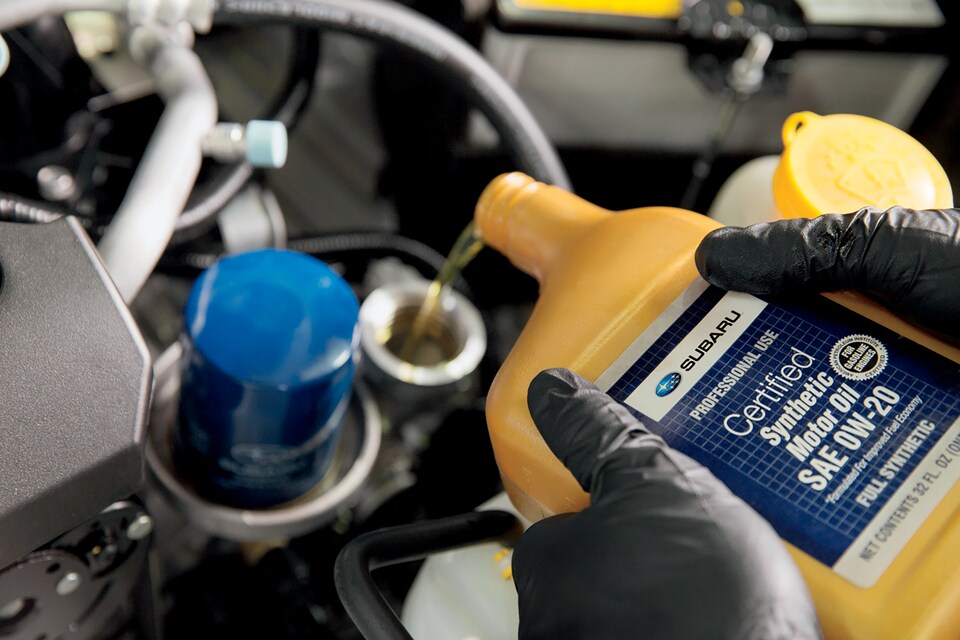 How often does my Subaru need an oil change?
As a brand, Subaru offers recommendations when an oil change should be performed. This will be determined by mileage accrued as well as visual checks of your oil level. Subaru recommends you check the oil level on your dipstick at every other fuel stop. Depending on your driving style and other conditions, your engine may consume oil more frequently between oil changes.
Should engine oil be dark and give off a burnt odor, it's definitely time to change the oil.
What's the difference between synthetic oil and conventional oil?
Basic composition of oil defines the difference between synthetic and conventional oil installed during an oil change.
As such, conventional oil is comprised of a crude-oil basis, whereas synthetic oil offers chemical compounds that accentuate petroleum molecules. This process lends more vitality to lubrication over time. Put simply, synthetic oil tends stay effective longer than conventional. Synthetic oil also typically offers better performance in cold weather, but tends to be more costly than conventional. Cost differences tend to be off-set by giving you more time between oil changes, so generally full synthetic or synthetic-blend oil tends to be recommended for most modern Subaru models.
Contact Us for a Service Appointment
Never wait for the oil-pan warning light to come to life. Should you suspect the need of an oil change, make your appointment today.